Certified Athletic Therapists are best known for their quick-thinking on-field emergency care of professional and elite athletes. The first to respond when someone gets hurt, they are experts at injury assessment and rehabilitation. It's that same mix of on-site care and active rehabilitation skills that makes Athletic Therapists so effective in treating the musculoskeletal (muscles, bones, and joints) injuries of all Canadians, whether on the field or in the clinic.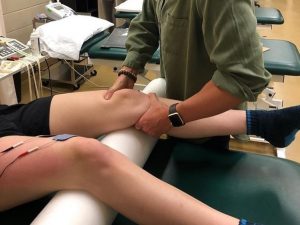 Athletic therapists adhere to the Sports Medicine Model of care. They treat a wide range of patients, from kids with concussions to seniors recovering from hip replacement surgery, using various manual therapies, modalities, exercise prescription and even bracing and taping. The treatment varies but the objective doesn't: an Athletic Therapist's goal is to help clients return to their usual activities, whether that means playing competitive sports or walking to the mailbox and back.
Certified Athletic Therapist
Certified Athletic Therapists have attended and received a bachelor's degree from one of eight accredited educational institutions in Canada. They have accumulated practical experience in clinic and field placements. They have successfully completed the national certification exam administered by the Canadian Athletic Therapists Association and have received the professional designation, CAT(C).
Registration as a Certified Athletic Therapist with the SATA entitles the person to practice athletic therapy in Saskatchewan, to vote and hold office in the association, to be appointed to committees of the association and to receive copies of association documents appropriate for distribution.
Certification Candidate 
These persons are currently enrolled in or have graduated from an accredited athletic therapy degree program and are in the process of collecting their practical hours needed in order to attempt the certification exam.